At ZBJ Network, Inc., we're excited to announce an exciting milestone this week as we've reached a combined 7 million registered users between our two freelance services websites, Witmart.com and ZBJ.com. This achievement makes us the largest online crowdsourcing service market for freelance experts skilled in
logo design
,
website design
, writing and translation services, and more, which is certainly something we are very proud of.
?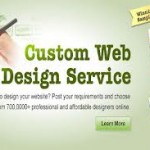 Together, Witmart and ZBJ provide employers and providers with the most reliable
crowdsourcing marketplace
to post and find jobs. We have over 7 million users with skills from varying industries willing to provide and bid on jobs daily through our unique and innovative platform. Our two freelance sites focus on individual and business users for both professional and everyday services and provide the best solution to securely and easily complete work while coordinating transactions with our advanced internet-based technology.
We have made it easy for employers to post either a contract or contest job for providers to compete on. Through a contest job, employers have the luxury of getting multiple bids and choosing the one that fits their requirements best. Through a contract job, employers can narrow providers based on the qualifications they possess, including feedback, job history, and job completion date. Employers only pay when the job has been completed to their satisfaction.